Dharmpal Vansadia, DO
Orthopedic & Sports Surgeon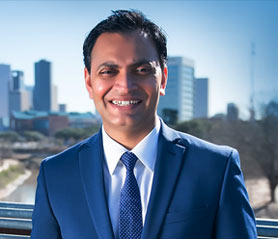 Dr. Dharmpal Vansadia
Dr. Dharmpal Vansadia is an Orthopedic Surgeon specializing in sports surgeries, arthroscopy, total joint replacement, and fracture management. He has a special interest in ACL, rotator cuff, cartilage preservation, hip arthroscopy, stem-cell/PRP therapy, and minimally invasive total joint replacement surgeries. He has extensive experience in sports medicine having completed a Sports Medicine Surgery Fellowship at the Ochsner Sports Medicine Institute in New Orleans, Louisiana. Dr. Vansadia has taken care of athletes at all levels. During his training, he served as an assistant team physician for the NFL New Orleans Saints, NBA New Orleans Pelicans, University of New Orleans, Dayton Dutch Lions FC, John Curtis High School, and Centerville High School.
Dr. Vansadia received his Bachelor of Arts degree in Biology from Baylor University and was a member of the Baylor Interdisciplinary Core. He received his medical degree from AT Still University-Kirksville College of Osteopathic Medicine in Missouri. After medical school, he completed an Orthopedic Surgery residency at Ohio University-Grandview Hospital & Medical Center in Dayton, Ohio. He passed his written and oral orthopedic surgery boards with a top 5% score.
Dr. Vansadia grew up in Port Arthur, Texas and now calls Houston home. He is happiest outdoors and enjoys hiking, biking, and traveling. At home, he enjoys cooking, watching movies, and spending time with friends and family.
Dr. Dharmpal Vansadia
10496 Katy Freeway
Suite 101
Houston, TX 77043
Phone: (346) 571-7500